For the team at Diane Butterworth Ltd, and many others, attending 100% design has become an annual tradition. The event provides companies of all sizes and design mediums, a fitting platform to present their exciting products and services. From recycled notebooks to hydraulic loft wardrobes, 100% Design has it all under one roof.
In previous years, it was key for us to use the exhibition as a way of networking within the workplace community, shout about our services, and promote the Diane Butterworth Ltd brand. However, this year, we entered the doors with a different objective… Keen to expand our interior design and 3D visualisation services, we went on a mission to discover the latest innovative designs, trending finishes, and source some inspiration!
What did we find?
As workplace design consultants, we initially felt slightly lost! For the second year running, 100% Design has been missing its workplace section, but, as the lines between commercial and domestic blur, so too must the event. Once you've gathered your bearings, the lack of the 'Workplace' title is a gentle nudge out of the rigid constraints of office furniture and into the soft, homely scenes that promote well-being and collaboration.
Our Favourite Discoveries!
Voladiza, ArqiAtelier
Located in the Emerging Brands section of the design hall, the Voladiza Bench by ArqiAtelier instantly caught our attention! The crisp edges, great quality of build, and aesthetically pleasantly balance between the geometric leg frame and clear-cut seat; makes this product stand out from the crowd. The product continues to surprise you with its slimline magnetic cushions turning this into a truly diverse product.
Ideal Location: High-end reception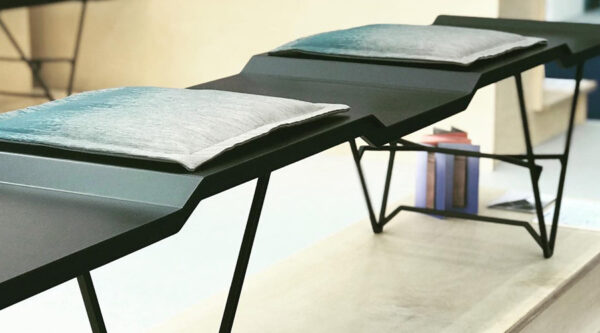 Benchmark Furniture Collection
It is difficult to pinpoint just one favourite product from Benchmark's stand as each stood handsomely on its own and as a collection. However, if we were forced to pick one, it would be the Sage High Huddle Table simply because it is so rare to find a larger circular high table that looks as attractive as this one! Every product oozed strength with a solid wood build and perfectly rounded edges that give a sense of elegance and desire.
Ideal Location: Open Office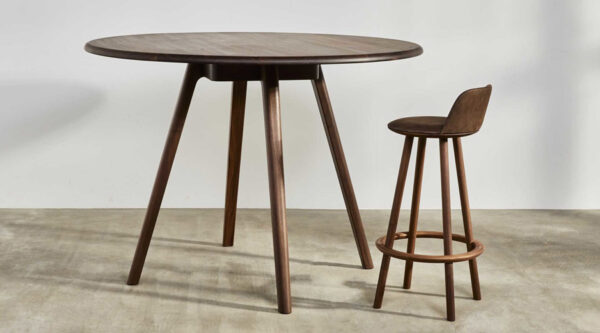 Julius, Garsnas
Garsnas have converted the more traditional sofa and transformed it into a truly unique and pleasing fan effect product. The fan hugs the gentle curve of the unit and is just as much a piece of art as it is a useable sofa; it doesn't do it justice if placed against a wall!
Ideal Location: Executive Waiting Area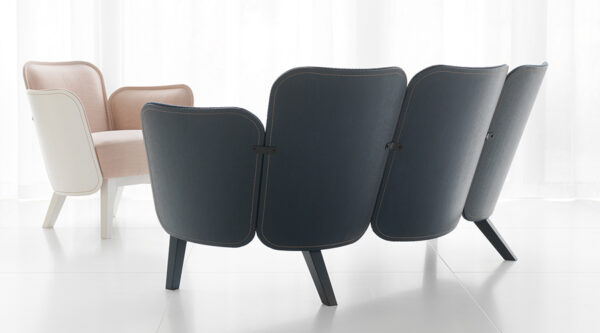 Summary
This year, 100% Design had a clear vibe for the natural finishes, such as heavy grained light woods and raw metals, and coupled with soft pastel colours that create a light and refreshing atmosphere. The huge range of quality products displayed at the exhibition has altered our thought process… Instead of cloned booths and uninspiring tub chairs, we can now enhance the spaces we design with these stunning pieces that will force you to take a second glace at any office environment. Why shouldn't your workplace ooze luxury and elegance?
What did you think? Was the Interiors section at 100% Design a true reflection of the merging workplace style?