You might find it hard to believe, but Revit Families have been in the workplace industry for almost 5 years. It's been a gradual build to this point, but furniture manufacturers have come together to create a fantastic portfolio of digital content, available to everyone in the market.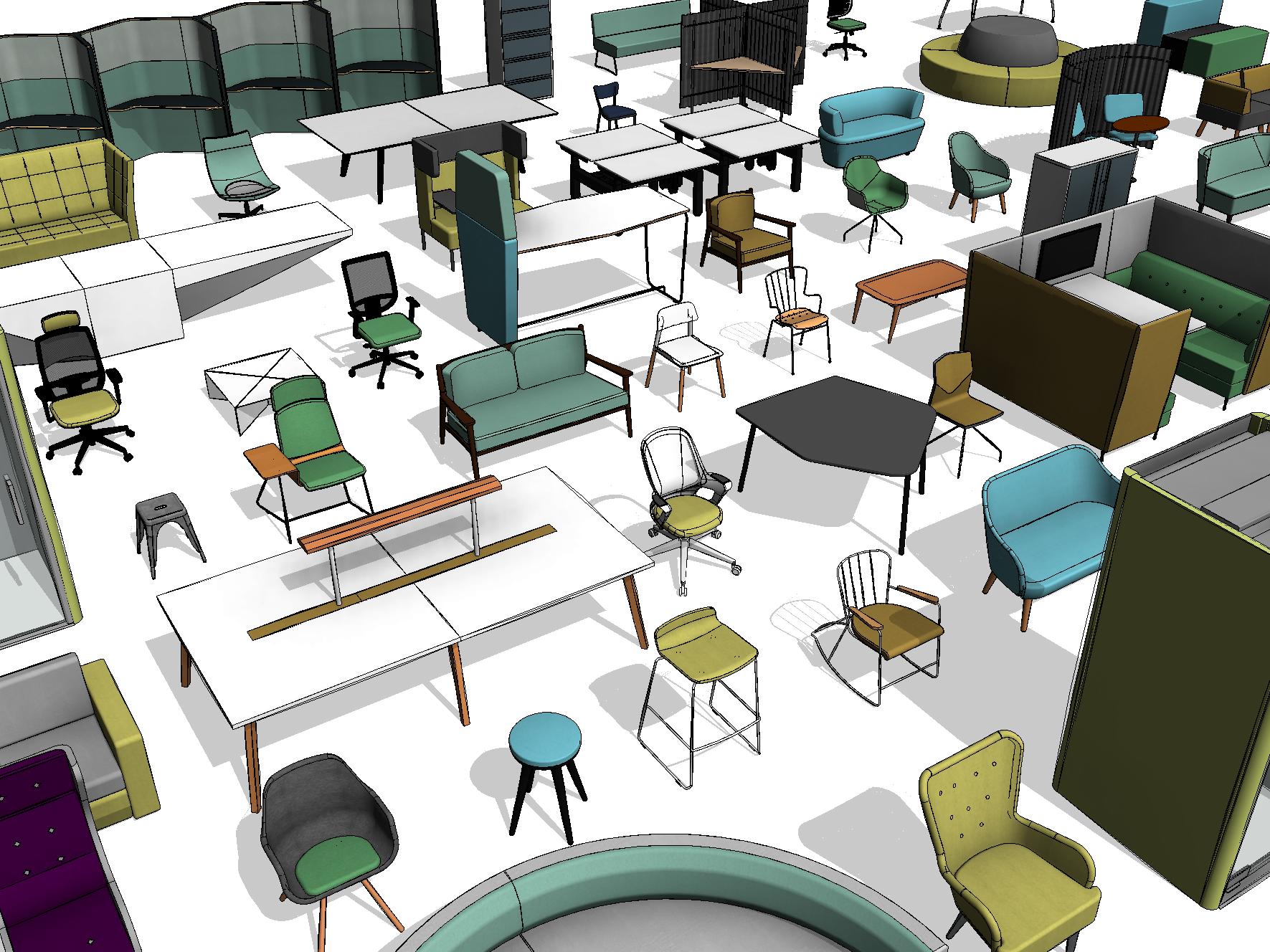 Problem
We applaud manufacturers for stepping up and recognising what these digital clones of their products provide. However, with the ease of a digital transfer and unsecure hosting services, Revit Families are being sent here, there and everywhere – making it hard to have one true version that everyone can depend upon.
Digital content is easily multiplied and with no means of tracking copied files, outdated files are hard to find, let alone remove.
Revit Families need to work harder. Unlike their predecessor, CAD files that were static and undefined, Revit Families have a host of information beneath their 3D shell. However, without the right software or skillset, this information is inaccessible.
With such a vast selection of manufacturers' products to choose from, it really is a specifier and designers' market. However, this can be a lengthy and costly process, sourcing suitable products with many opting for 'what they know'.
Solution
Placing these digital assets on NBS – the secure cloud-based manufacturer product platform and specification writing platform, creating one single reliable source of product information. Even when assets are loaded into a project, if a manufacturer's product is updated, the integrated plugin will seamlessly upgrade the file version.
Manufacturers will stay informed with which files are most frequently downloaded, what projects they are being included in and who is interacting with the content. This provides essential information to begin building relationships with new customers.
Accessibility to digital content is often a deciding factor of whether a product is specified or not. NBS standardises product information, making it easier for specifiers to find the right product for their projects, using advanced search and product comparison options. Once selected, it's less likely to be replaced by inferior products or ones without digital content.
Additionally, NBS has a plugin for BIM compatible software. Providing the ability to search for products within the same interface as planning a space. This reduces time spent browsing multiple manufacturer sites and downloading to a non-cloud-based location.
Who are NBS? 
NBS is an integrated global platform for everyone involved in the design, supply and construction of the built environment.
NBS Source, its manufacturer product platform helps product manufacturers grow their business by exposing its products to architects, engineers, designers and contractors. Product information is visible, comparable and structured to enable specifiers to work smarter and make informed product decisions. Once decisions are made these can be added to NBS Chorus its specification writing platform.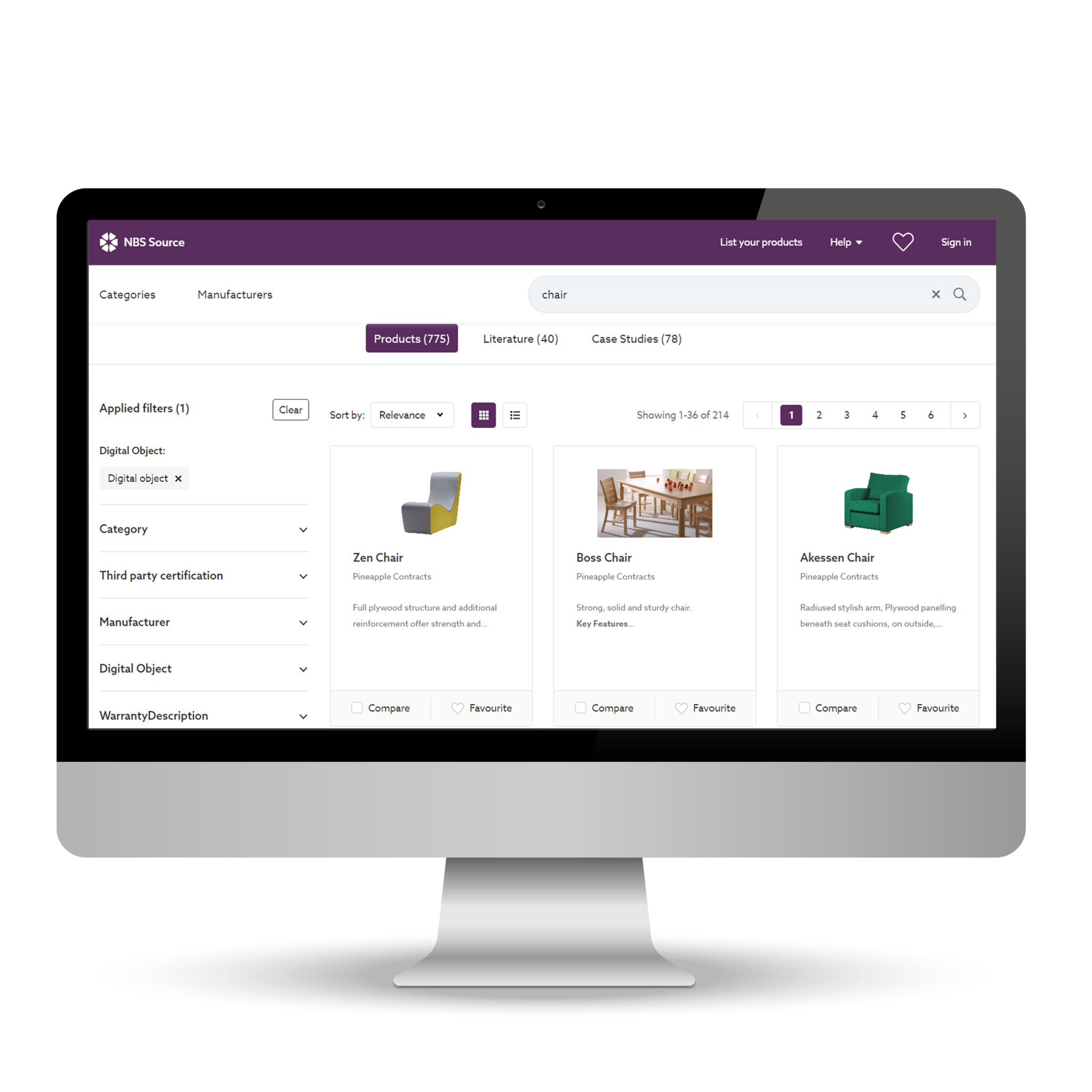 Why choose NBS? 
With trade shows cancelled, reduced capacity showrooms and a new vision of office design emerging, it has never been more important to ensure your marketing is primarily digital.
Manufacturers who host their Revit Families with NBS gain direct access to a highly targeted audience, increasing the opportunity of being specified at the early stages of a project and opening the door with the UK's leading architects, designers and specifiers.
Our Revit Family creation service is the first step to a digital catalogue; however, we understand this is not where it stops and could not drive a digital transformation alone. Therefore, we requested the support of our like-minded colleagues at NBS.
We've partnered with NBS to provide encouragement and confidence to our customers, to future proof their business by unleashing their digital content onto NBS. We see NBS as the heart of the industry and leaders in standardised product information and data.
Across the NBS platform – on average it gets 367,000 unique users each month*. Many of UK's leading architectural practices use NBS platforms, making it an essential tool in increasing exposure to specifiers, architects and designers who may otherwise not be directed to individual websites. You can learn more here. 
Interesting in Hosting?
Before handing you over to the friendly team at NBS, give us a call on 01908 534204 to discuss your initial requirements. No sales pitch, just helpful advice.
Need digital content modelled?
Diane Butterworth is UK's leading provider of commercial furniture Revit Families, having created thousands of families since founding in 2015, and having worked with over 30 furniture manufacturers across the industry.
"Diane Butterworth has been our go-to for the creation of Revit families for our collection of upholstered furniture for a number of years now. We're constantly asking for the limits of software to be pushed and I'm pleased to say they've never disappointed."
As active users of the content we create and download from our sources, we know a great or bad file when we come across one! Whilst space planning, these assets need to work seamlessly, encompass the correct data and be representative of the product that is being specified.
*Monthly average from Jan-Oct 2020
Our mission is to be a reliable supplier of affordable families.
If you're interested in what an NBS page looks like and how Revit Families are presented on the platform, you can click here for a look at NBS's own general furniture page. Manufacturers on the platform are given their own page to host their families, but this page offers a glimpse of what is possible. If you're interested in more information, why not get in touch by emailing hello@dianebutterworth.com – I love hearing my client's ideas and am happy to offer no obligation discussions on your next project.
For more from my blog, click here – and be sure to follow me on LinkedIn by clicking here.