BIM for Interior Designers
BIM. There's that buzzword again! It might sound harsh, uninviting and miles away from the creative vision of an interior designer. However, BIM can be an umbrella to an inspiring world of technology that supports and influences design – let's call it 'digitalisation'!
Creativity v Reality
There is an ongoing debate as to whether Building Information Modelling is hindering an interior designer's creativity. BIM provides designers with a constant real-world checker. It can inform you that a 5ft concrete sculpture is too heavy for a mezzanine floor or that a specific wall cannot be removed because it is part of the core building structure. Some may view this as blocking imagination, whereas others recognise the benefits BIM can command to ensure an accurate design is produced at the early stages of a project.
Product designers and manufacturers have revelled in the government's introduction of BIM Level 2 and have supported interior designers by producing high quality, data-rich 3D models that resemble their products. We all know that a rendered image of an area represents what the reality could be (not a duplicate). However, generic models are becoming a thing of the past. The models and visuals used in floor layouts are generally an accurate representation of the specific items a client will purchase, even down to the same material finishes.
Enhanced Features
The introduction of integrated collaboration within software packages, such as Revit Architecture and third-party document sharing platforms, allows interior designers to work on a project alongside other professionals to achieve the ultimate design solution. Surprisingly, we live in a world where communication is literally at our fingertips. Yet, it is only just becoming an international standard for all contractors to collaborate from stage one and continue throughout the project.
One huge benefit of data embedded models within a project is their intelligence to those who may not be so familiar with an item's capability. A wall-hung item might not be attached to the appropriate wall structure correctly, or perhaps a furniture item hasn't been given the correct amount of clearance zone. A clash detection report would highlight this before the design proceeded to the next stage and certainly long before installation, where an error could be costly to rectify.
Software developers are continually adding smart features that aim to assist designers in their project proposals, such as the newly added 'Path of Travel' in Revit Architecture 2020: a two-click solution to calculate the walking distance from A to B, which automatically considers routes where partitioning, doorways, and furniture may be in the way. This would primarily be used for emergency escape routes but could also be used to assess general building circulation.
The enhanced features in software packages like Revit Architecture do not replace the creativity of an interior designer. Still, they aim to highlight areas that may have been overlooked in previous projects and identify solutions for the future. The construction industry has committed to digitising all government projects. Although interior designers may not place themselves within this category, the roles between all those responsible for producing work are combining to work towards a common goal.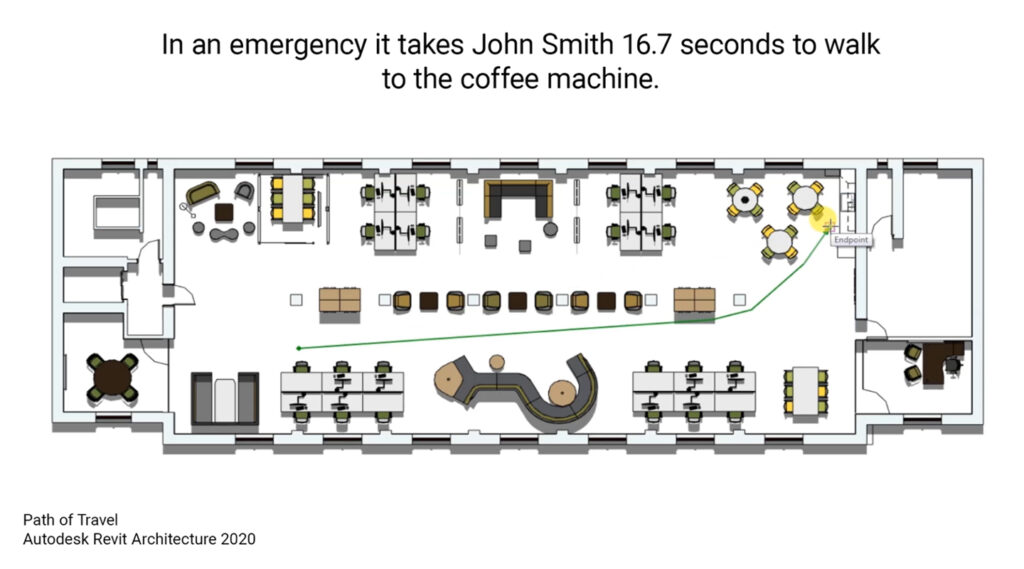 Workplace analysis
Extensive analytical research that observes, records, and questions the function of a space can help achieve a tailored solution. Research could determine how many users work at a desk for a set period, thus calculating how many fixed desk positions are required within an office. Perhaps, the north corner of your building is reported as rarely being used; therefore, you could convert this into a quiet area.
Interior designers can use analytical data to aid them in their design process to produce concepts that provide better functioning spaces and directly reflect the client's activity movements within their current office environment.
Design Communication
Technology has allowed 3D visualisations to become second nature when communicating a design concept. It's a fantastic tool that has now become an expectation among clients. Although visuals have become easier to create, they now work harder than ever before since BIM can give an image context by integrating it into a whole building project rather than split for visualisation purposes only. Views, including 3D, are not isolated. For example, if a chair is changed in one view, this will be reflected across the whole project, including 2D plans, elevations and item schedules with no software swapping.
An interior designer's role is more important than ever. The images and plans created by them relate to many other documents that will assist with processes beyond their input, from product ordering to installation.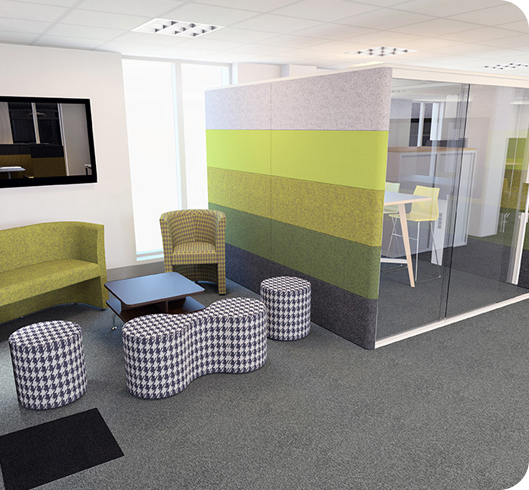 Longevity of Design
An interior designer's role is to create functional and visually attractive spaces for the intended purpose. A well-designed space should last for its intended lifecycle. Whether it be 1 or 10 years, it is important to keep a detailed record of the space, furniture and finishes to ensure the environment is maintained correctly and can withstand the test of time.
Often space will deteriorate due to lack of maintenance. However, BIM eliminates this issue by storing all building assets in one singular file called a Common Data Environment (CDE). THE CORRECT INDIVIDUALS AND the CDE are accessible by the correct individuals and easily transferable for the relevant communities to ensure everyone has the information to repair, replace, and maintain all building assets.
Summary
Creativity is the use of imagination to create something unique, and you are not bound by what tools you can or cannot use to achieve this. However, interior designers can use BIM to aid the design process and log and communicate a design concept. BIM does not limit creativity. Instead, it advises checks feasibility and stores information throughout a project's journey, from initial design to building maintenance.