Clerkenwell Design Week 2018
It's official: the workplace industry has converted to the world of BIM! Just 2 years ago, when Diane Butterworth Ltd was founded, the same year the government mandate came into place, it was a struggle to convince manufacturers that these files were the future of construction and the furniture industry.
Now, most of the companies we speak to have a good understanding of what 'BIM' means, how it can benefit their business, and, most importantly, prevent them from losing existing or new project where BIM is a requirement.
Why BIM - An office design approach
During this year's Clerkenwell Design Week, we presented '#whyBIM; an office furniture approach' each day; we demonstrated a range of services using BIM families recently created for Arrow Group's Formetiq brand.
We undertook some detective work throughout these presentations to see how well BIM is affecting you. A huge 44% felt they knew what BIM was but wanted some more guidance, whereas 50% had either never heard of BIM or had minimal knowledge.
Our visitors were made up of 33% designers, 33% sales, 17% managers, and 17% 'other' (whoever you are!), and we took everyone on a journey to the world of BIM. Highlighting the key tasks that can now be completed under the BIM wing generates faster and more efficient processes, reduces human error, and creates a more easily accessible digital document of a building and its contents.
DB Ltd's seminar at Design Hub Clerkenwell clearly depicted the generation (inclusive of proprietary data) and management of our Formetiq products in a functional and interactive digital office environment. Designers, installers and operators use BIM to specify furniture products, so it will continue to be an integral part of our business offering.
Adam Stephen
Marketing Director, Arrow Group
Sales Team
Shockingly, 57% of sales attendees rely on themselves or co-workers to count each item of furniture to produce a quotation. Not only is this open to human error, but what if amendments are made to the drawing? The amount of time spent completing this task once, twice, maybe three times, per project can equate to a high cost to the business. Plus, I imagine it to be quite a laborious task!
Jump to 01:20 on the link below for a demonstration on how Revit Architecture can generate your quotes instantly…no more counting! https://youtu.be/4EgZRHlksNY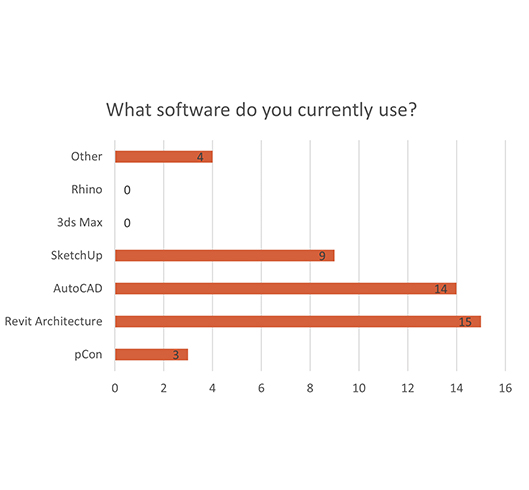 We had only just purchased Revit and so are very new to the concept of BIM and designing in Revit. What the presentation did for us is confirm not only we had made the right choice but also the workflow we were developing was the right one. It was concise and informative with some additional thoughts in it, which we never contemplated and wished to incorporate in the way we work and present our designs.
Ian Longland
Senior Technical Designer, Officescape LLP
Design Team
It is fantastic to see that a third of our visitors were already using Revit Architecture. This ranged from 7 years of experience to just a few days.
It would be difficult to ignore that having access to BIM families makes space planning a dream! Especially those files that follow the UK standards provided by both the National Building Specification (https://www.thenbs.com/services/our-tools/nbs-bim-object-standard) and Building Smart (http://www.buildingsmart-tech.org/ifc/IFC4/Add2/html/). Files named in the same manner no matter the author, parametric models reducing the number of 'blocks' required, and predefined component finishes allowing for 3D views to be created instantly.
Watch this video of a BIM family; see how changing its appearance and finish can be done effortlessly https://youtu.be/R1IHMuiigDM
There will always be a place for photorealistic images. However, I believe waiting hours or even days for a 3D render is now over. 2D plans can be altered and all views updated automatically, ensuring all plans, elevations and 3D cameras correlate. High quality renders can now be completed using the cloud, no longer taking up a designer's precious machine and company's time.
Facility managers
One of the key goals of converting to this new way of working is to manage the life cycle of a building better. This is the digital age, yet many facility managers will still be storing lever arch folders itemising the building's contents. 2D floor plans and contact details for repairs and replacements are likely to be outdated. A Revit file would now be handed over to the building's owner, not on a disk or USB, as a digital cloud file; stored for decades to come, accessible anywhere and with no software requirements.
Here is a statistic to keep an eye on 30% of our attendees have been asked to either provide BIM Families or work within a BIM compliant project. It has only been 2 years since the mandate came into place, yet a third of us have already evolved.
Watch this video for a demonstration of A360, a platform to view Revit files online. https://youtu.be/yxP6zZEFQe0
Your Client
It doesn't need to be all technical drawings and data sheets, especially when 53% of customers expect a little extra.
By taking advantage of the time saved and the efficient process that can be adopted when using Revit, offering 3D renders, walkthroughs, and even VR panoramas can become standard. We provide these for 70% of our projects, and they are quick to create and help secure the contract.
Here is a walkthrough of Arrow Group's Design Hub in Clerkenwell that was modelled and rendered within Revit. https://youtu.be/lmT9PR6byBw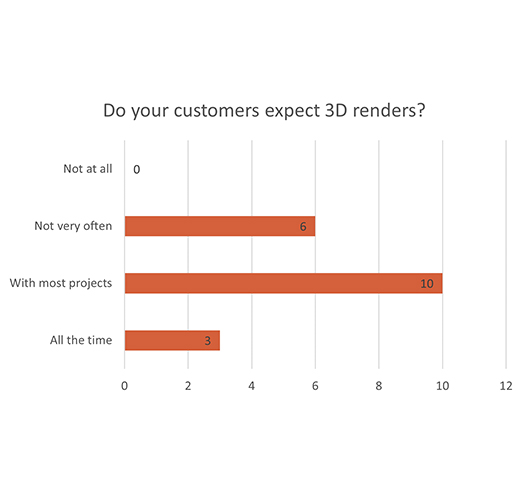 A big thanks to all, as we received the order for the High School this week for the library furniture and shelving – as you know, we presented the plans and visuals at several meetings with the team at the school, they were impressed with the visuals. It certainly got the project over the line for them.
Summary
BIM is the evolution of CAD that improves accuracy, increases project speed and promote collaboration. Together we can eliminate errors in our digital building before installation by collaborating via a central model, preventing product waste, and reducing project delays. Within one singular business, teams can share the information, which decreases the need for duplicated files in multiple software formats, ultimately forming the ideal streamlined process.
Furniture manufacturers are following the construction industry into the next generation of digital modelling. Generic models are becoming a thing of the past, allowing real-life manufacturer products to be specified at the very early stages of a project. Customers can now take a true glimpse into their new environments with the help of parametric CAD models, linked true architecture, and super-fast rendering.
With thanks
A special thank you to the whole team at Arrow Group for allowing us to host our #whyBIM demonstration at their Design Hub. https://www.arrowgroupglobal.com/
Thank you to all those that attended our presentation during Clerkenwell Design Week and taking part in our live survey.