Eight Products - Three Layouts - One Room
The encouragement of flexible and remote working is leaving offices somewhat abandoned. Meeting rooms are gathering dust and secretly becoming storage spaces, and corners of open-plan offices are left unused whilst employees huddle together on hot desks.
The sensible solution is for companies to downsize their physical office space; however, this denotes the fear that reducing room sizes means cutting down on facilities, thus affecting the overall look and feel of the workplace. Whereas, in reality, it can be quite the opposite. Having a smaller footprint to play with will not only ensure you use every meter of the space, but also make sure you use versatile office furniture it in a way that works best for you and your employees.
So, what can you do with 65sqm and 8 products…a lot! Using 8 different products, and the same quantities of each, we designed 3 different floor layouts to illustrate just how easy it is to alter your space by simply moving furniture around. All you need is a little bit of elbow grease, a cuppa or two, and the guts to just go for it!
Shopping list
6 x Flex Collection, Steelcase
2 x Nook, The Do Company
3 x Huddlebox, Workagile
4 x Bertie, Davison Highley
16 x Fabricks, Ocee Design
2 x Spin, Moventi
14 x Cube, Verco Office Furniture
1 x Nomad Media Unit, Connections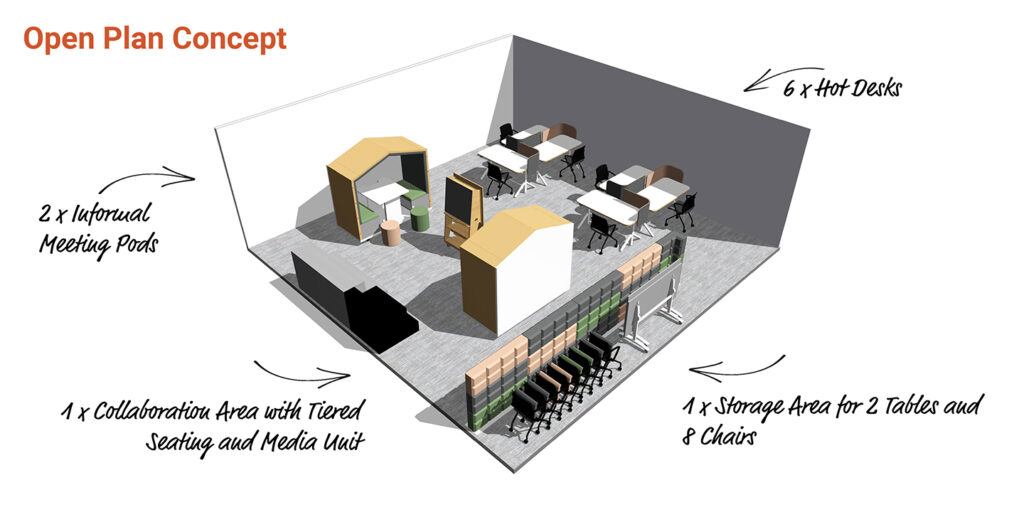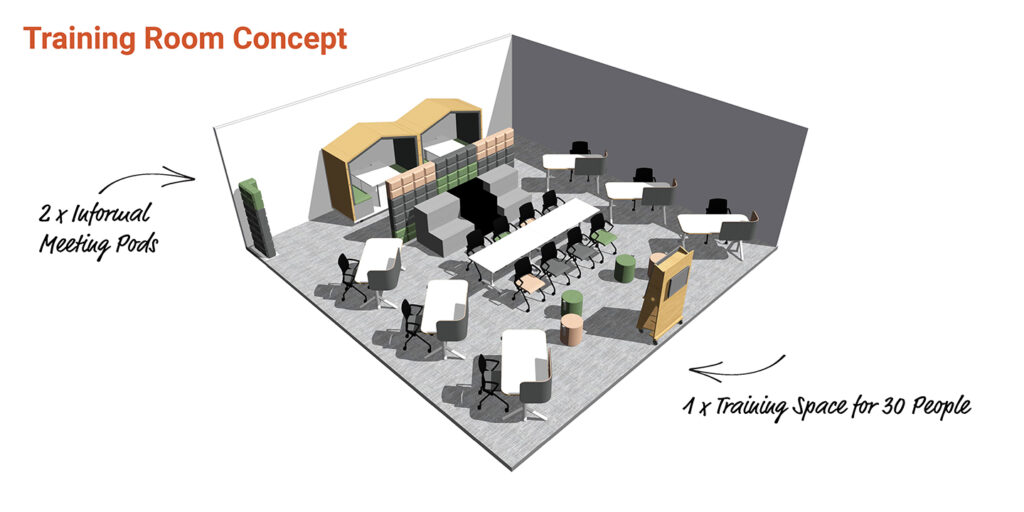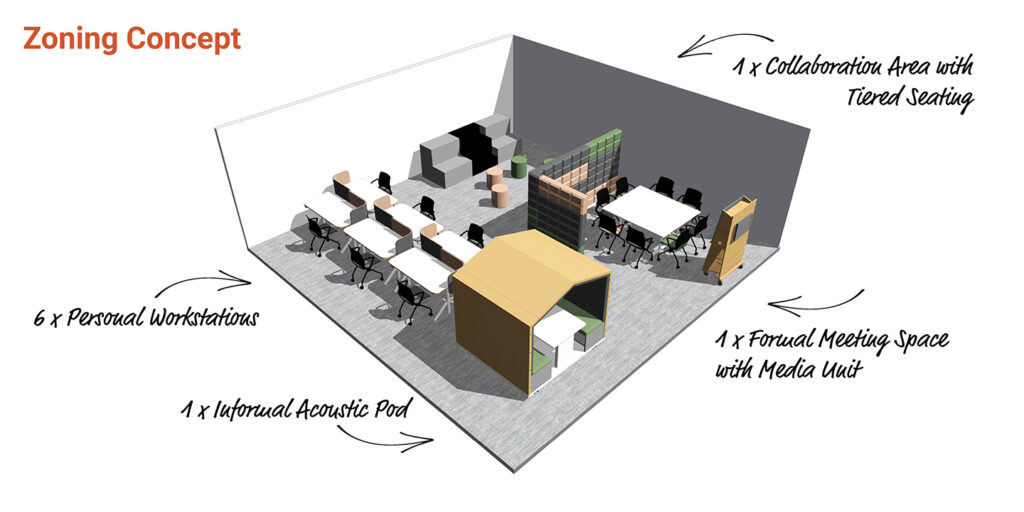 Product Review
Flex Collection, Steelcase
The Flex desk is one of several within its family. Designed to give teams the ultimate flexibility to reconfigure their space to suit the task at hand. The desks have been specifically created for repositioning with ease using the directional rollers on the feet; making it an effortless task to slide your desks alongside your colleagues.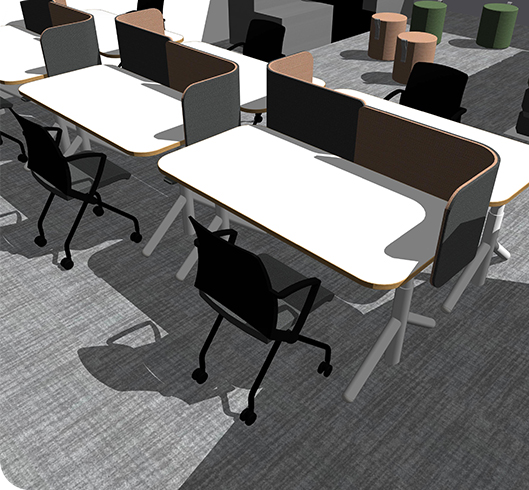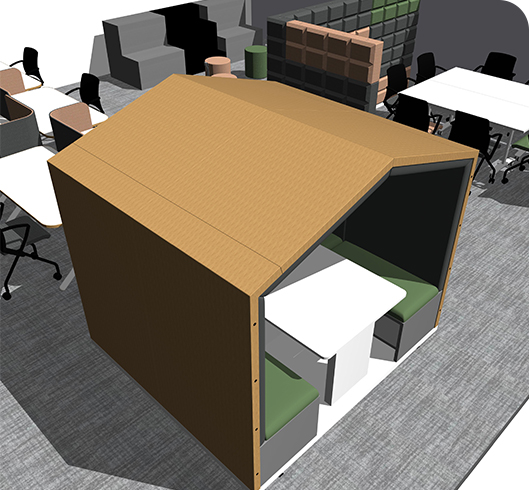 Nook, The Do Company
The Nook Meeting Pod comes in three sizes, all developed with a small footprint to fit into otherwise unusable spaces, such as corridors. The Nook is a perfect acoustic duo meeting space; ideal for a 1-2-1 meetings or if you need a private spot to focus on those important phone calls. What's more, with the unlocking castors, you can effortlessly manoeuvre the unit to create temporary zoning areas or join multiple pods together to create larger meeting spaces.
Huddlebox, Workagile
The Huddlebox by Workagile is basically a giant Tetris game! The beauty of Huddlebox is that it can be built upwards to create more seating without increasing the overall footprint, meaning it is possible to eat your lunch and touch the ceiling at the same time! The units are so versatile that they can be quickly reassembled to fit into corners or become a centre stage. It is perfect for informal meetings where you can crowd more people than dedicated chairs would allow.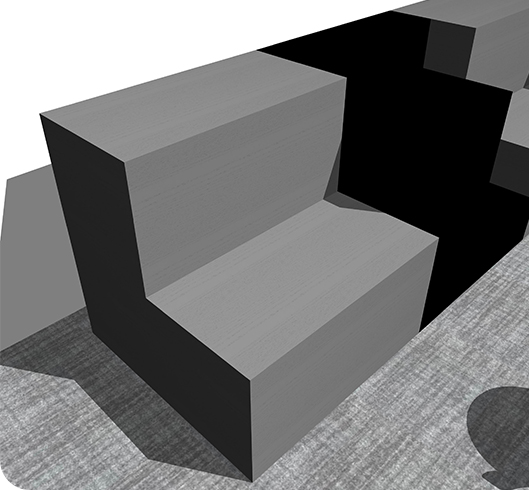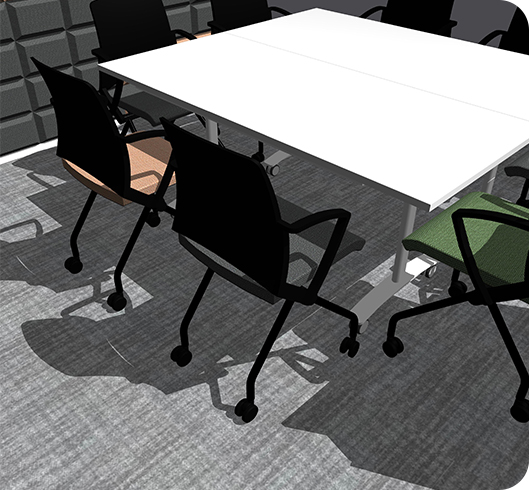 Cube, Verco Office Furniture
The Cube chair has nesting arms which store away when not in use which makes this an extremely space-efficient product. The compact design ensures multi-purpose functionality within any meeting, conference, or occasional task workspace.
Bertie, Davison Highley
The Bertie stool is an elegant take on the standard upholstered stool. The leather handle gives users permission to interact with the product. At just 5kg it is light enough to be lifted and relocated to its new temporary home.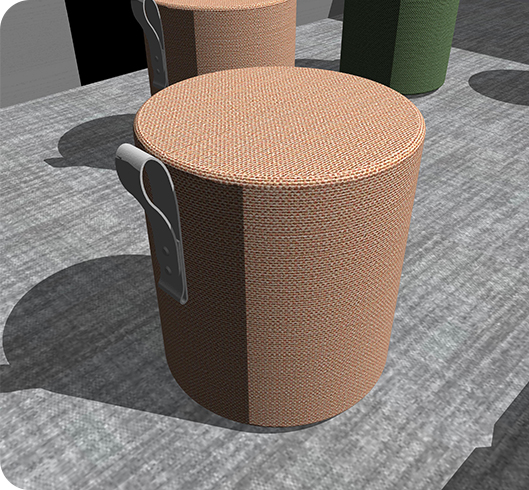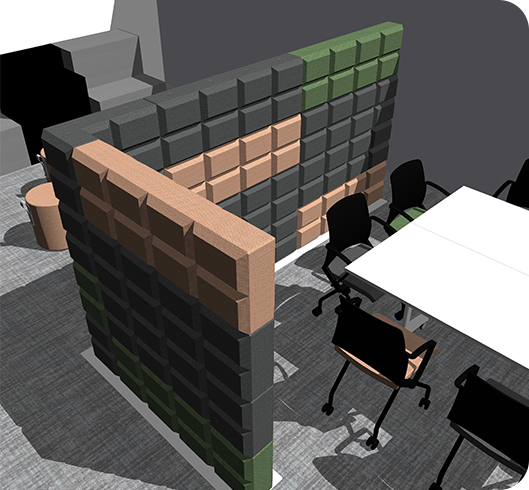 Fabricks, Ocee Design
Fabricks by Ocee Design offers two very important features when planning a small flexible space: Firstly, it is a class A sound absorber. No matter where the screens are placed, centrally or along a wall, it is guaranteed to make a positive impact on the sound levels in your office. Secondly, it is super versatile. A bit like the Huddlebox, Fabricks is a mini game of Tetris; you can move, rotate and extend each unit to create zones and flexible partitioning.
Spin, Moventi
The Spin tables are one of our all-time favourites! This range can be used in canteens, meeting rooms and even as hot desks. The collection has been built with versatility in mind; set on castors and a selection of shapes, the number of possible configurations is endless. When the product is not being used, it can be easily folded away to free up crucial office space.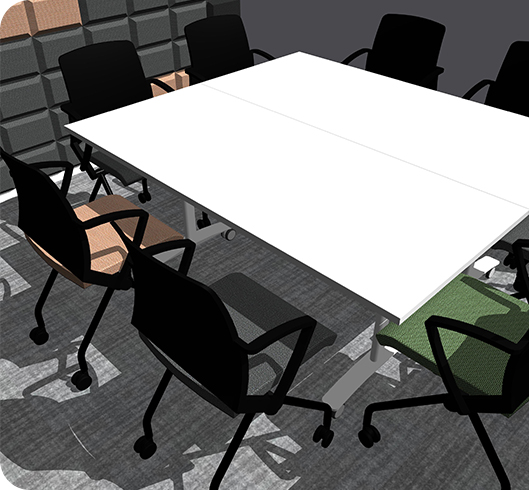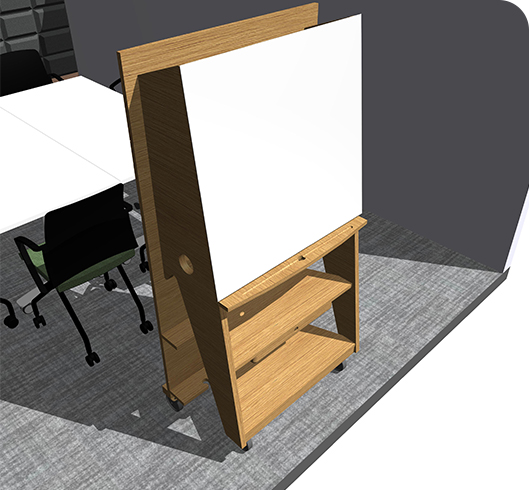 Nomad Media Unit, Connections
The Nomad Media Unit by Connections is double-sided; one side offers a digital screen whilst the other is a more traditional whiteboard; allowing users to swap between the two during a meeting or presentation. With the collection built on casters, Nomad is true to its name by empowering the user with the choice of how, when and where to work.
Summary
It is no longer necessary to cover offices with solid walls or fix furniture into one position. At the time of instillation, the layout should be perfect for all employees! However, 6 months or a few years down the line your office requirements are likely to change, technology will have progressed, and you may have altered the way you and your team execute tasks. By selecting versatile office furniture, you are creating an adaptable and multipurpose office space, thus providing longevity. Let your employees get creative with the space, after all, they are the people who need the best configuration to get their jobs done!
For more creative insights into office planning and installation, check out our other blogs here.