Should manufacturers have Revit Families?
In order to understand why Revit Families are a good investment, it is important to understand the ways in which they aid compatibility, quality and productivity for architects and designers.
Before we delve into this, let's ensure we all know the basics.
What is Revit?
Revit is a 3D CAD software developed by Autodesk in the early 00s. It's come a long way since then, but I'll skip the history lesson of its early origins! Essentially, Revit is a platform used to implement BIM; a process used to create intelligent 3D models of buildings.
Revit is the software that allows the process of BIM to be better implemented.
What is a Revit Family?
A Revit Family is the name given to a natively modelled asset within a 3D modelled building, anything from a chair to a column. The file would contain a 2D symbol, 3D visual and relevant product data – a 'family' of datasets.
Ok, that is the basics! So why should manufacturers have these files available?
Software
Data
Parametric (Product Manufacturer)
3D Model (Product Manufacturer)
Material Library (Surface Manufacturer)
Digital Transformation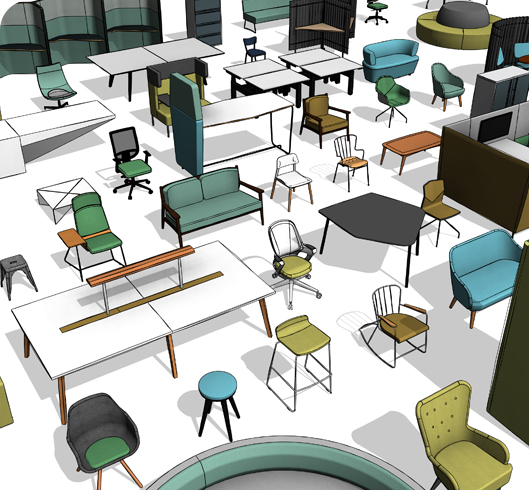 Software
50% of the industry uses Revit as its primary design tool.
According to the most recent NBS report, Revit is the top used design tool, with second-placed ArchiCAD coming in at only 16%.
Although other CAD formats can be imported to Revit, they will not be data enriched files, nor will they offer parametric abilities. They are also likely to be higher file sizes, causing reduced project speed.
Data
High-quality, 3D assets, enriched with product-related information.
Designing with generic products is a thing of the past. Once a Revit Family is placed, product and company information is embedded within the intelligent 3D building model.
Supplying designers with access to product-specific Revit Families provides the opportunity for your product to be specified during the early stages of a project. Product schedules will hold item codes and direct URL links to product-specific pages.
Parametric (Product Manufacturer)
Combine multiple variations of a product type in one file.
Increase speed and efficiency with one-click product selection. Save time loading in multiple CAD files, adjust product configurations and apply component-specific materials.
As the saying goes; time is money. Providing specifiers with easily accessible resources to perform their tasks effectively can have a direct reflection on your brand, showing commitment to embracing industry changes and potentially increasing your rate of return customers.
3D Model (Product Manufacturer)
All views are updated automatically as a project develops.
In the Revit model, every drawing sheet, 2D and 3D view, or schedule is a presentation of information from the same virtual building model.
In an industry where 3D visualisation has become an expectation, inevitable design changes are reflected instantly to all views. A Revit Family is a progression of a traditional 2D CAD symbol, Excel product specification and 3D model, providing a simplified process.
Material Library (Surface Manufacturer)
Realistic and professional textile representation.
Materials can be added to Revit Families for accurate 3D visualisation, component finish listings, and quantity scheduling.
Surfaces should not be forgotten when it comes to digital content. Each material hosts critical data such as ratings, textile length and company details. As Revit Families increasingly become the norm for furniture manufacturers, the demand for compatible, real-world, scaled material libraries is sure to follow.
Digital Transformation
The digitisation of the construction sector will transform the way we work.
Revit Families, BIM and immersive technologies are some of the key components used to support collaboration across projects and within organisations.
Products placed within 3D building models leave their digital footprint, whereby data is standardised from a single reliable source and shared with necessary parties. To embrace a true digital transformation, a cultural change is required. The results are a culture where responsibility, risk and reward are proportionately shared and collectively owned.
Summary
We are in an information-driven era, where the demand for answers at a click of a button is a necessity. Customer experience has reached new levels, whereby a company's understanding and commitment to providing high-quality resources, in a way that is easily accessible, can have a direct impact on reputation and sales success.
Revit Families go beyond a CAD resource, they provide a link to a digital future where information is recorded, viewed and tracked throughout a product's lifecycle. This structure provides a single response to specification and data tracking, reducing duplication and human error.