Photorealistic Rendering for Mint Seating
Brief
Mint Seating are a fresh new furniture manufacturer that wanted their digital resources to match the quality of their products. In need of a reliable supplier to provide unique and photorealistic imagery, uniformed product shots, and high-end 3D CAD files; they contacted us.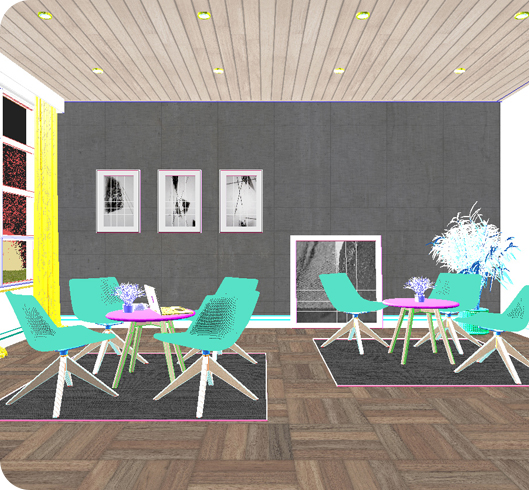 Process
The primary task, that would influence the quality of any resulting imagery, was to replicate their real-world products into digital counterparts. These needed to be a true replication, with fine detail such as material seams and assembly fixtures included. We used surface modelling in 3Ds Max to model the furniture items, its rich and flexible toolset giving us the ability to model finer details.
Mint Seating and their team selected backdrops that reflected the style of the collections and would also fit within their existing branding. We were able to develop a photomontage where CAD models were aligned to the camera angle and lighting of the image. Alternatively, we had the option of using the image as inspiration to model a scene from scratch, allowing flexibility in selecting the best vantage point.
Diane was an incredible partner for us to align with after numerous recommendations from colleagues within the industry. As a new manufacturer in a competitive industry, it was vital for us to showcase our products, tone of voice and brand values in the best way possible. Diane has done that in the production of photorealistic imagery and CAD files for us to share with our customers and prospects.

Diane's passion for her craft was there to be seen on our first meet and it was decided there and then that we would embark on this journey with her to represent us on a creative level for imagery. All communication throughout the developments were concise and with and understanding of how we as MINT wanted ranges and product to be reflected. Time scales helped in launching our marketing collateral between lockdown 1 and 2 to ensure that more eyes would see our offerings.

We see this partnership being one that lasts the time of MINT's trading existence and feel very grateful for the fantastic support and finished products that Diane produced.
Dan Richardson
Sales Director at Mint Seating