The evolution of the workplace - Keeping small business thriving.
Need a rework of your space? We design concepts that incorporate your current furniture. While now might not be the time to invest in a full new office refurbishment, it's important to understand when your current layout is not fit for purpose.
We want to ensure that small businesses don't feel forced to eliminate their office space as the evolution of the workplace begins, spaces that are essential for collaboration, mental wellbeing and the overall sense of community that these businesses thrive upon. Within the multitude of reasons for a small business to keep their space – the knowledge that people will gather in these spaces and the level of collaborative work that can be achieved together, naturally making use of their combined skills, is sure to connect with all small business owners.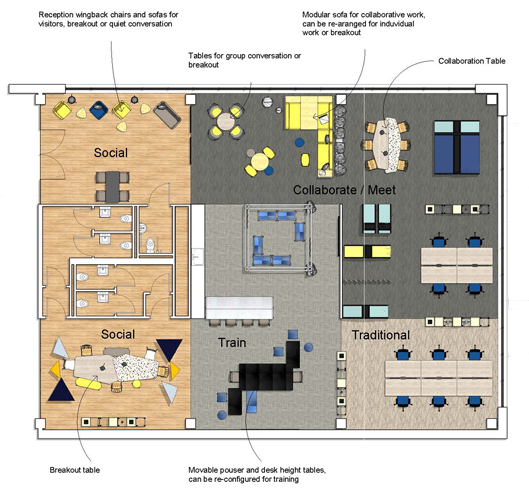 Stage 1 - Let's Talk We love visiting the space in person, experiencing it for ourselves and talking directly with the individuals who occupy the space. Here, we can take picture of the current environment, better understand your needs and take basic measurements to enable us to proceed to the evolution of your workplace.
Stage 2 – Are we on the same page? We will translate our conversation into some inspirational images and a colour palette. The principles of office design can be repeated, but it's the personal touch of your brand that ensures the project is successful.
Stage 3 – The Design We will issue a complete design pack, including space plan drawings, elevations of any features and 3D renders of the complete space. The pack will identify all key products we have featured so you can begin enhancing your space.
Stage 4 –Refinement We like to say we get it right first time. However, we know there is always the slight possibility of a change of heart here and there. We will adjust the design accordingly until you are 100% happy with the final outcome. The design pack will be reissued digitally, with all CAD and 3D visuals.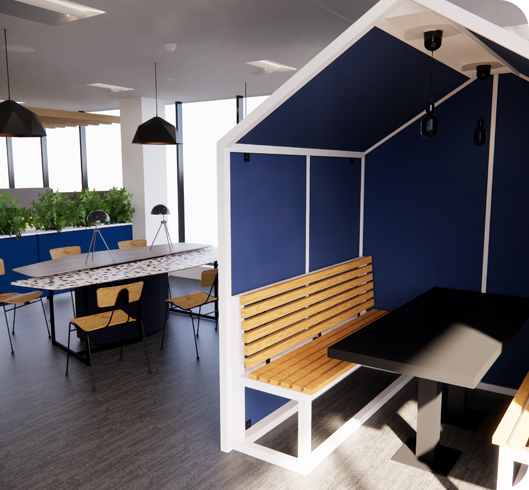 Are you the occupier of the space?
We love working directly with the users of the space. As visual designers, we can provide you with a complete concept of your space, working with you to determine your overall design budget. We don't sell products, but with a good knowledge of what is available on the commercial market and an eye for utilising second-hand products within bespoke designs, we're able to approach the project from a different perspective.
Are you a dealer supporting a client?
We believe that the next generation of office design is upon us. It is the refined version of the previous flexible office, with a key focus on brand values, creating a space where employees recognise they are part of a community. We will work directly with your client as the designer, but seek your input on product selection.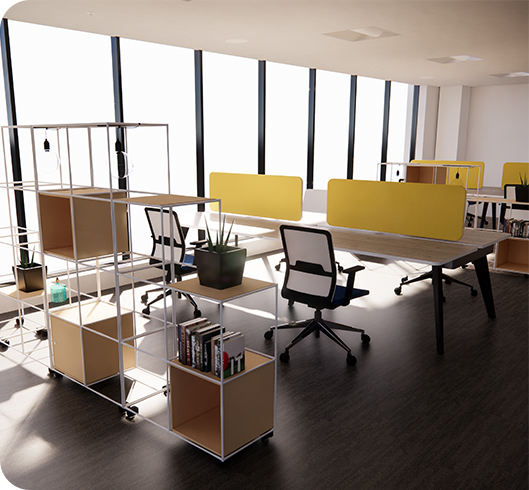 5 Top Tips for a post-pandemic office space.
1. Social reception It's likely that employees have not seen each other all week, or longer. One of the key reasons employees turn up to the space is for the interaction with their peers. Unlike previous reception areas that can be eery and static, the new space could be likened to the local bar. This isn't a place to work, but a place to get that all-important social fix, as for some, this is their main social experience of the week/month.
2. Open space No more filling every meter with desks or collaborative breakout space. Empty space is essential when bringing a full team together. Leave a clear open space where everyone can be together, using flexible furniture to host everyone in a presentation, or smaller groups for teamwork. And who knows… You might even make it a dance floor, should the moment arise.
3. Use your space The reality of the evolution of the workplace is that increasing numbers will be working from home, so it's likely that your space could become quiet. Collaborate with your local community on how this space could continue to be used. Is there another business you could partner with to share the same space? Could you downsize the floor space you occupy and make each area double, or triple-up on its purpose, using clever design solutions?
4. Brand Your space should reflect your business and its values. Employees should enter the building being reminded of how it feels to be part of the community.
5. Technology Access to technology has become an absolute necessity within a flexible office. The new challenge is to combine technology with privacy, as connectivity with virtual employees cannot be compromised. Whether personal booths or a traditional desk setup with sufficient privacy screens, these confidential areas need to be considered.